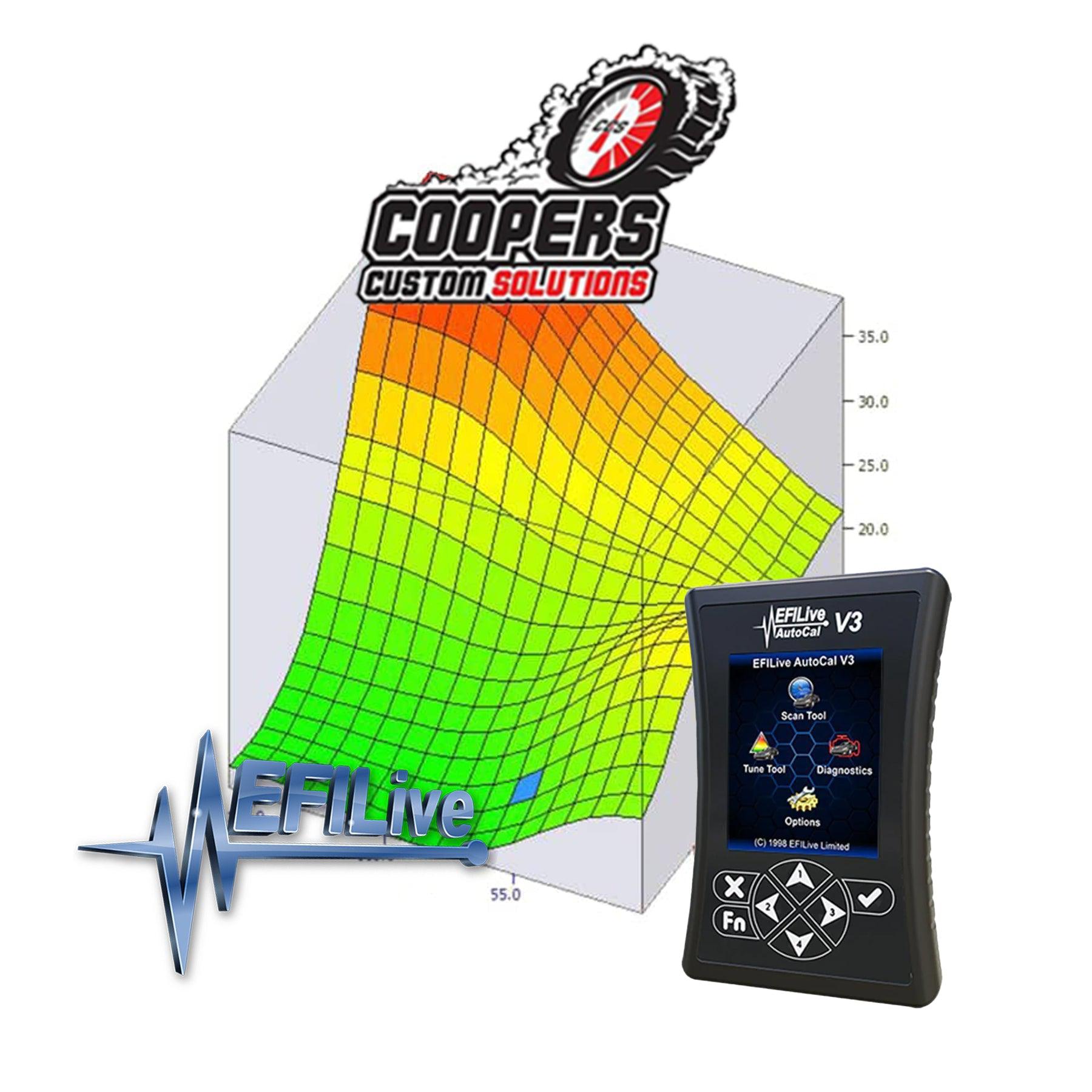 2010-2021 Cummins - EFI Live Autocal + CCS Tunes
Part Number:
AC3-10-21-RAM-EFI-SINGLE
Mfr Part Number:
Available at alternate warehouse - contact for price
This is a special order item, please allow for additional processing time. If you would like an ETA, please reach out prior to placing your order.
Description
Fits
| | | |
| --- | --- | --- |
|  Year | Make | Engine |
| 2010-2021 | Dodge Ram | 6.7L Cummins |
Note: 2018+ Dodge Trucks REQUIRE a Patch Cable. Click Here
EFI Live is the professional's go-to when tuning the 2010 -2020 Ram Cummins. The EFI Live system is a tool that allows you to electronically crack open the OE ECU & TCM in your Cummins and allows you to overwrite the stock files with upgraded tunes.
This specific EFI Live AutoCal will include Coopers Custom Solutions tuning with either a single tune or 5 tunes. Coopers Custom Solutions writes their custom tunes for the Cummins in Canada and is highly regarded as one of the best custom tuners for the Cummins engine. Allowing you to make safe and reliable power in your 2010-2020 Cummins.
If you already have the tuner, click here for the tune files
Tuning
By custom tuning your Cummins, you are given the ability to modify countless parameters to the engine and transmission operation that OEMs had to produce the stock tunes you started with. The number one reason customers choose to tune their trucks is fuel economy. Just by changing the rate of the burn inside the combustion chamber and removing EGR gases (if applicable) from the burn we can extract more energy out of the fuel that was otherwise possible. By extracting more energy out of the fuel, we get increased fuel mileage as less fuel is required and an increase of power. 
A single-tune option is perfect for customers who are just looking for a mild tow or economy tune and do not foresee the need to switch tunes. The truck will always run it much like the stock tune, perfect for customers who are not the only ones driving their trucks. We can set up a single tune to any power level or configuration. 
2010-2012 Coopers Custom Solutions Tune Options:
25hp Tow
45hp Economy
75hp Daily
90hp Street
120hp Race
2013-2018 Coopers Custom Solutions Tune Options:
45hp Tow
75hp Economy
90hp Street
120hp Race
2019+ Coopers Custom Solutions Tune Options
25HP Tow
45HP Economy
75HP Daily
90HP Street
120HP Race
Higher Power levels can be written with the proper supporting modifications. Please state the HP level and the supporting modifications. 
Device
Remote custom tuning has never been easier! The EFI Live AC3 allows you to receive custom-tune files via email, download them to your AC3, and then flash them onto your vehicle. So as long as you have an internet connection and access to a computer, you can throw these tunes on from anywhere!
The AC3 is more than just a 'generic handheld', the AutoCal delivers EFILive's renowned scan tool for your use. This allows for the collection and transmission of logged data back to the tuner for analysis. Have a DTC code that you're worried about? With this AutoCal, you also have the ability to diagnose and clear codes!
Features
Ability to Tune up to 600 VIN Numbers

Includes OBII & USB Cables
High-Speed Datalogging & Store Files
Read & Clear DTC Codes
Built-in 512MB micro SD Card.
Built-in audible alarms.
Upgradable firmware.
Battery backed real-time clock.
Appears as a Windows USB drive.
The built-in power supply prevents data corruption if the external power supply is interrupted.
Installation

Installation Instructions:
E/C & S/N Number
For the tunes, we will need the E/C Number and the S/N number off your ECM data plate. The video below shows the location.