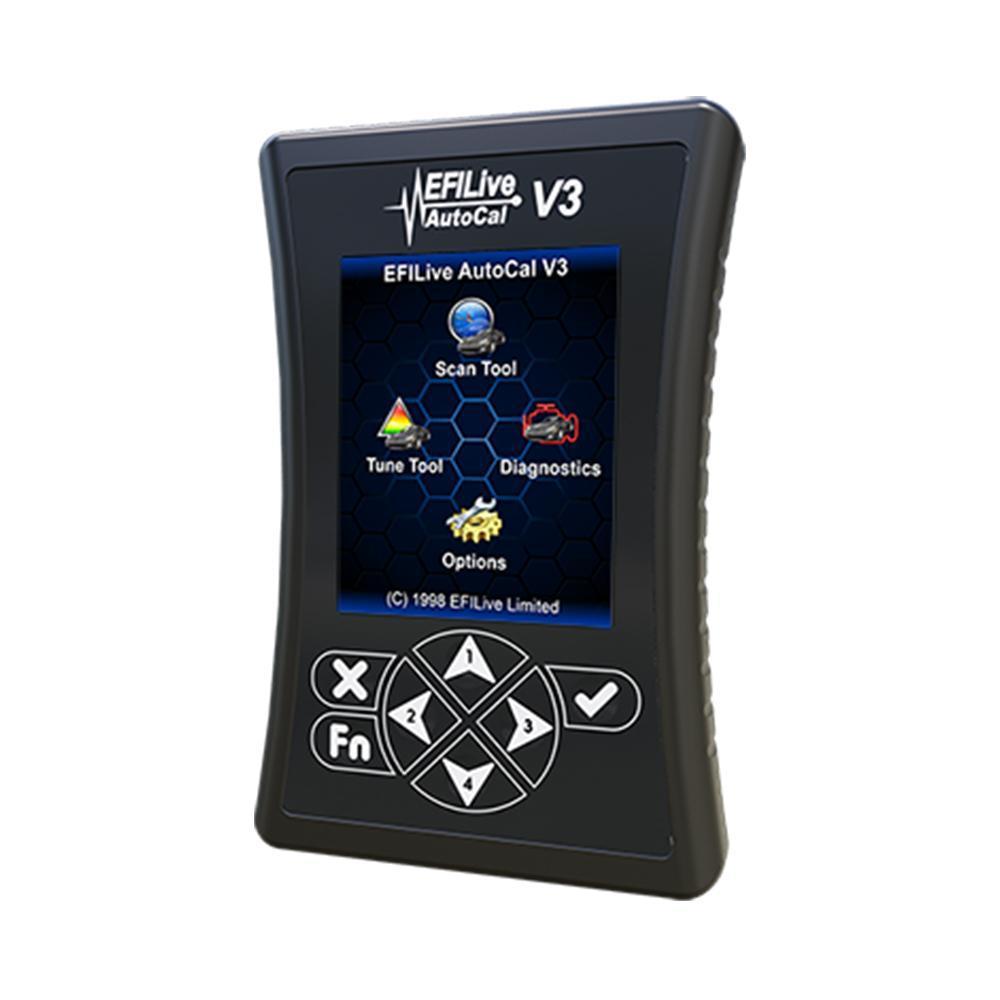 EFI Live Blank AC3 AutoCal (ACV3)
Part Number:
ACV3
Mfr Part Number:
Available at alternate warehouse - contact for price
This is a special order item, please allow for additional processing time. If you would like an ETA, please reach out prior to placing your order.
Description
Fits: Universal 
The EFI Live Autocal is easily one of the most popular tuning devices in the world, and it just got that much better. With EFILive's integrated AutoCal V3 delivery platform you can supply your tunes to customers anywhere in the world. Each AC3 Autocal includes OBDII & USB Cables and can be used to tune over 600 vehicles. All Autocal V3 devices will come with one VIN Licence, and each vehicle you tune will require an additional VIN Licence. However, most custom tune files we sell will include the VIN license in the cost of the tuning. 
Remote custom tuning has never been easier! The EFI Live AC3 allows you to receive custom tune files via email, download them to your AC3, and then flash them onto your vehicle. So as long as you have an internet connection and access to a computer, you can throw these tunes on from anywhere!
The AC3 is more than just a 'generic handheld', the AutoCal delivers EFILive's renowned scan tool for your use. This allows for the collection and transmission of logged data back to the tuner for analysis. Have a DTC code that you're worried about? With this AutoCal, you also have the ability to diagnose and clear codes!
Part Number: 
EFIACV3
Features
Blank- No Tunes
Includes 1 Free VIN License
Ability to Tune up to 600 VIN Numbers
Includes OBII & USB Cables
High-Speed Datalogging & Store Files
Read & Clear DTC Codes
Built-in 512MB micro SD Card.
Built-in audible alarms.
Upgradable firmware.
Battery backed real-time clock.
Appears as a Windows USB drive.
The built-in power supply prevents data corruption if the external power supply is interrupted.
SOFTWARE
Full access to the EFILive Scan Tool.
Full access to EFILive tuning parameters, including Custom Operating Systems.
Integrate your own tuning parameters.
Command Line Interface (CLI) and gang-programming will automate processes and programs up to five devices simultaneously.
Licensing
Multi-vehicle licensing.
AutoCal VIN slots are configurable. Tuners manage capacity between 1 (default) and 600 VIN slots. (Each VIN slot requires one VIN license).
Additional VIN licenses (up to 600) can be purchased.
Quick Setup
Configure and program all device settings, scan and tune settings, tune files and security in a single process.
Save Quick Setup configurations for easy reuse.
Email BBX configurations to support remote customers.
Tools
Import tune files.
Search files using key vehicle data (VIN, OS, segment, comments).
Customize software settings – Scan & Tune file save templates, displays, units, dashboards.
Notes
The AutoCal cannot be used to create, edit, or save tune files. The FlashScan device is required fortune file preparation
Installation 
User Guide
So basically I can buy tunes for multiple trucks and use the same tuner?

That is correct! As long as you purchase a VIN license and tunes each time, you can tune up to 600 separate VIN

Do you have to buy every tune? Also since it's blank you buy the first tune?

These are blank, however we do offer V3's with preloaded tunes for 01-16 Duramax and 06-2020 Cummins.
Frequently Bought Together