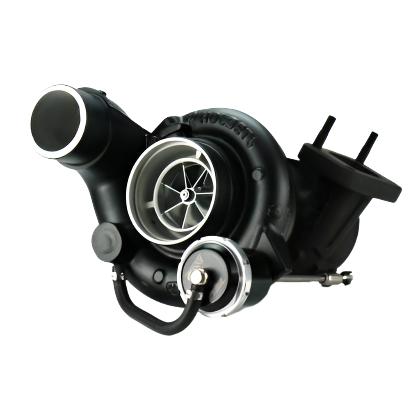 2007.5-2012 Cummins 63mm FMW Holset VGT Cheetah Turbocharger (FPE-351-0712)
Part Number:
FPE-351-0712
Additional Refundable Core Deposit Required of $580.00 CAD. Learn more.
Description
Fits: 2007.5-2012 Dodge Ram w/ 6.7L Cummins
Amplify your driving experience with a Fleece Performance Holset VGT Cheetah Turbocharger. Featuring a BRAND NEW ACTUATOR, a Fleece Performance exclusive 63mm FMW compressor wheel and a high flow turbine wheel; this turbo is capable of supporting 700HP, without sacrificing any drivability.
As a 100% drop-in replacement turbo, the Holset VGT Cheetah does not require an expensive installation kit. Enjoy lower EGT's, smooth and quick throttle response, big top end power.
Whether it's towing, racing, sled pulling, or just driving to work the Holset VGT Cheetah will get the job done.
Part Number: FPE-351-0712
Features
Drop-In Replacement
Lower EGT's
2.5" "Work Stock" Legal
Stock Like Spooling
Fleece Performance Exclusive FMW Compressor Wheel Technology
Max Rear Wheel HP Rating: 700HP
40-45 PSI Operating Range

Emissions: CARB EO D-834-6
Notes
Aftermarket off-road tuning and an aftermarket off-road exhaust are recommended for maximum performance gains, however, it is not required as this is a 100% drop in replacement turbo.
Is this turbo compatible with the factory exhaust brake?

Yes

Just had my turbo go on my 2012 6.7l was wondering if i were to go with this turbo what else i would have to upgrade?

This is a drop in replacement.  You don't need to install anything else along with it, the truck will just make more power and run cooler with this turbo setup.
Frequently Bought Together