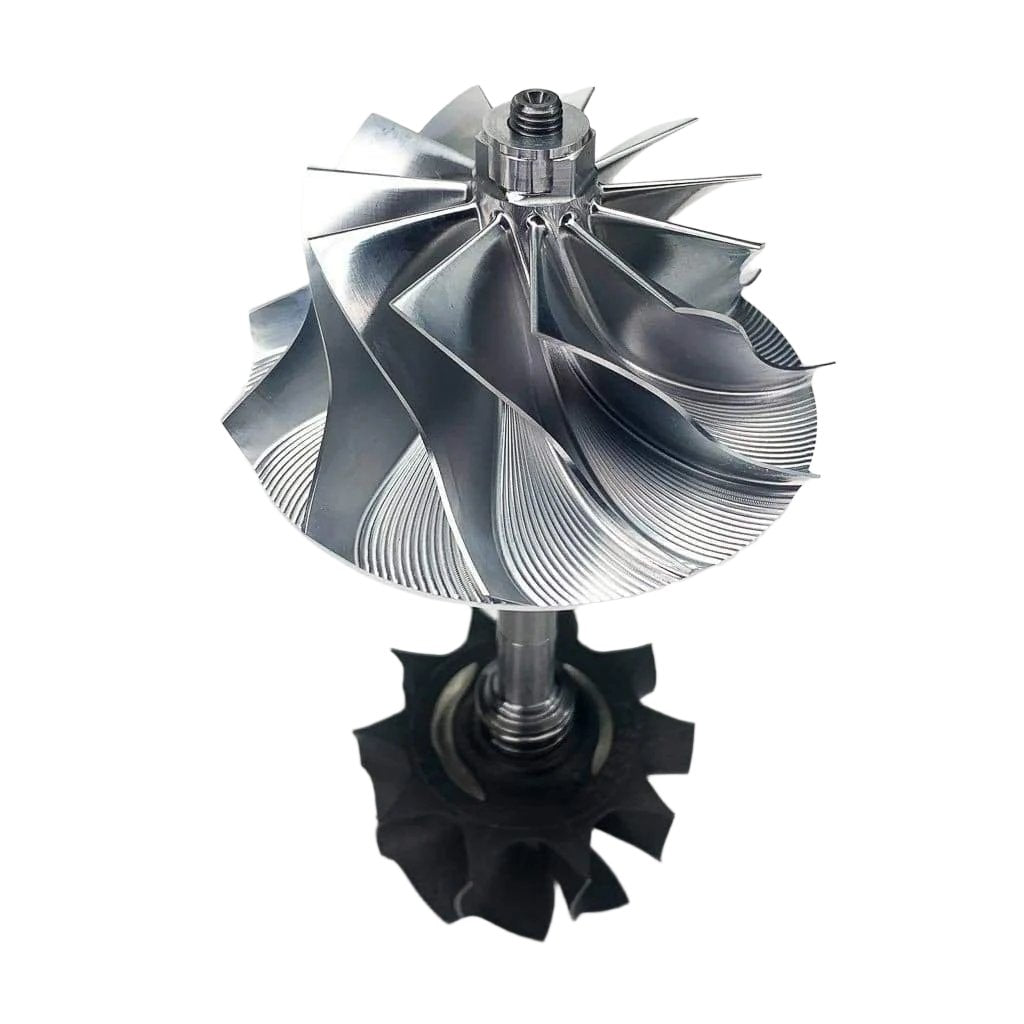 2004.5-2007 Duramax KC DIY Balanced Assembly Turbo Kit (300594)
Part Number:
300594
Mfr Part Number:
Available at alternate warehouse - contact for price
This is a special order item, please allow for additional processing time. If you would like an ETA, please reach out prior to placing your order.
360 Rebuild Kit:
Add Standard Rebuild Kit
Description
Fits: 2004.5-2007 GM LLY & LBZ w/ 6.6L Duramax
The KC Turbos 300594 DIY Drop-In Balanced Assembly Turbo Kit With Extended Tips is a perfect upgrade for someone who is looking for a little quicker spool and a little more airflow. KC Turbos Testing has shown that the 11-blade single-plane wheels perform much better than the stock dual-plane design.
The KC Turbos 11-Blade Turbine has been designed to flow much more efficiently while reducing EGTs. In turn, this will give you a lot more on-the-top-end performance. Another perk to the 10-blade design is that it will give you a very loud whistle sound, Some even say it sounds like a jet engine! 
Features

Drop-In Ready

Balanced and ready to install
Upgraded 360 thrust bearing
Increases airflow
Lower EGT's
11-blade single-plane compressor wheel
Warranty
Please note that there is no warranty on any DIY products
You can also upgrade your assembly from coming with the standard 360 rebuild kit to the Extreme rebuild kit
All KC Turbos are assembled and built in the United States. They will be special order until we have good stock and may take up to two weeks for delivery. Let us know if you're in a rush so we can get them rushed up!
DOES NOT WORK for LMM and LML duramax style turbos. It is your responsibility to verify your turbo has not been updated to the latest Garrett Design. If it has been updated then this upgrade WILL NOT WORK.  Please contact us with any questions.
What is the difference between the Standard and the Extreme kit?

The standard kit has all the parts essential to do a rebuild. The extreme has all the essential parts plus extra parts to do a full overhall (new cover bolts, pistion cup oring, ext)