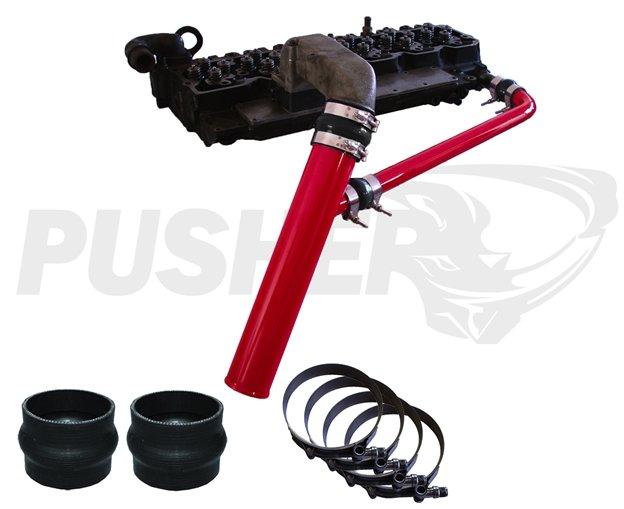 1998.5-2002 Cummins Cross-Air System (PDC9802CA)
Part Number:
PDC9802CA_N
Mfr Part Number:
Available at alternate warehouse - contact for price
This is a special order item, please allow for additional processing time. If you would like an ETA, please reach out prior to placing your order.
Powder Coat:
Natural Finish-Requires Coating Before Use
Description
Fits: 1998.5-2002 Dodge Ram w/ 5.9L 24V Cummins
Most Pusher Products will be a special order and can take up to 2-3 weeks for delivery. If you need it sooner, please contact us for our stock levels!
The Pusher 3" Cross-Air works with the factory intake manifold or any factory replacement manifold and is the most cost-effective way to protect your rear cylinders on trucks under the 500HP mark. The Cross-Air adapts to an existing port at the rear of the intake plenum that is normally sealed off with a freeze plug style fitting from the factory. By splitting off the driver-side charge tube and creating another parallel path to that port, cylinders 5, and 6 can be better supplied with air. This helps balance the engine temperatures and load at each cylinder greatly.
Fully TIG welded with precise settings to produce optimal penetration without impacting airflow. With this kit, you will notice a significant drop in EGT's due to better-equalized airflow to cylinders 5 and 6, as well as an increase in fuel mileage, throttle response, and turbo spool!
Part Number: PDC9802CA
Features
A cost-effective way to protect your front & rear cylinders un trucks under the 500hp mark
Adapts to existing ports at the front and rear of the intake plenum
Better supplies cylinders 1, 5, & 6 with air to help balance the engine temperature & load
TIG-welded & Mandrel-Bent tubing
Lowers EGT's
Increases fuel mileage
Increases throttle response
Increases turbo spool
Includes:
Machined cylinder head adapters
Heavy-duty 4-ply silicone couplers
Stainless T-bolt clamps
All required hardware
Notes
For an additional charge, select powder coating colours are available on this kit.