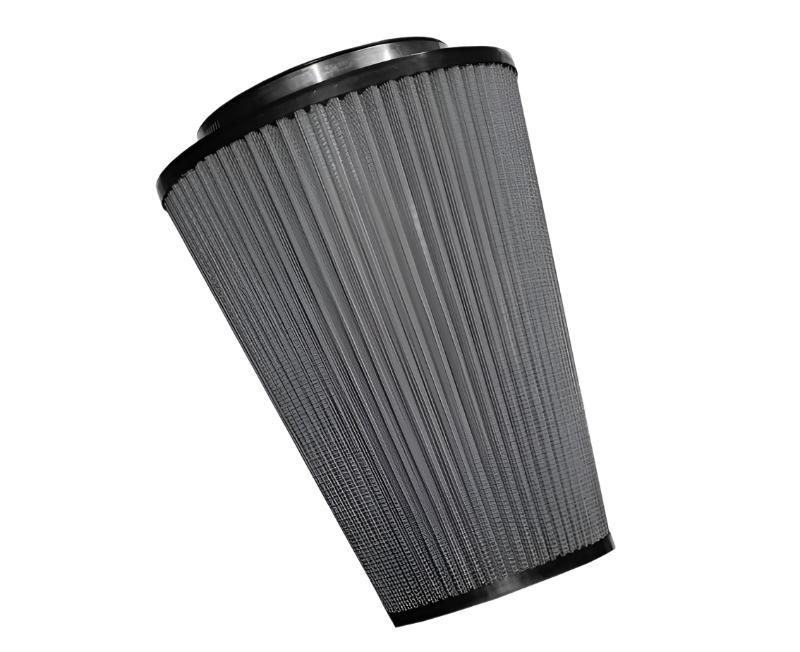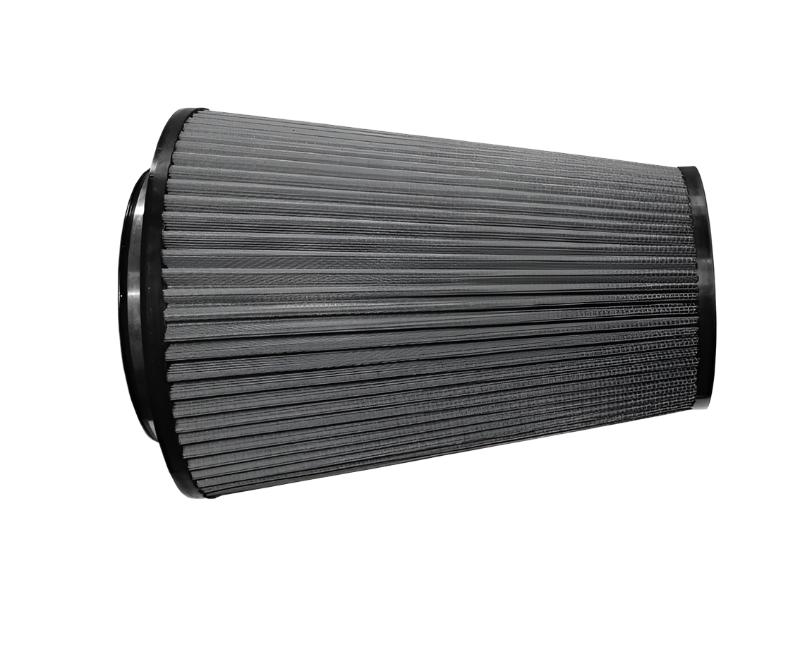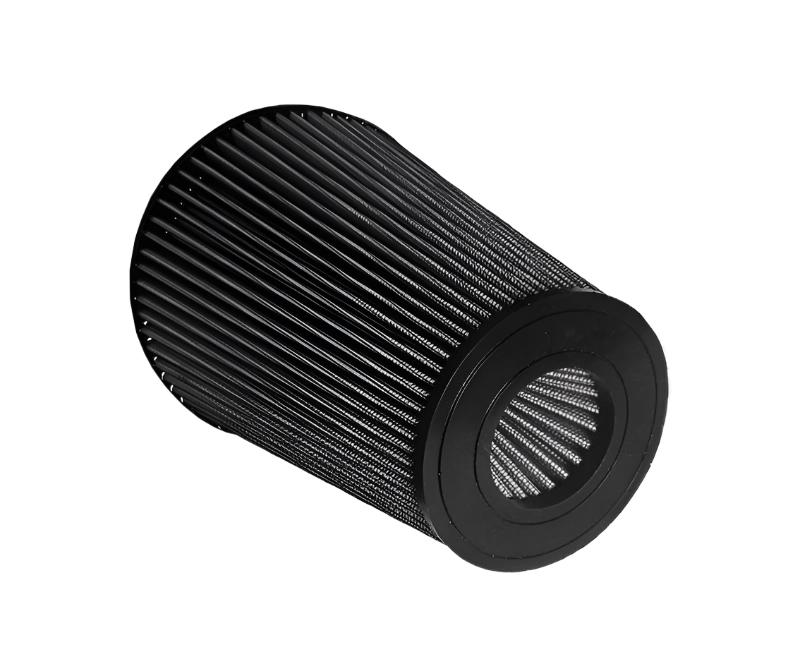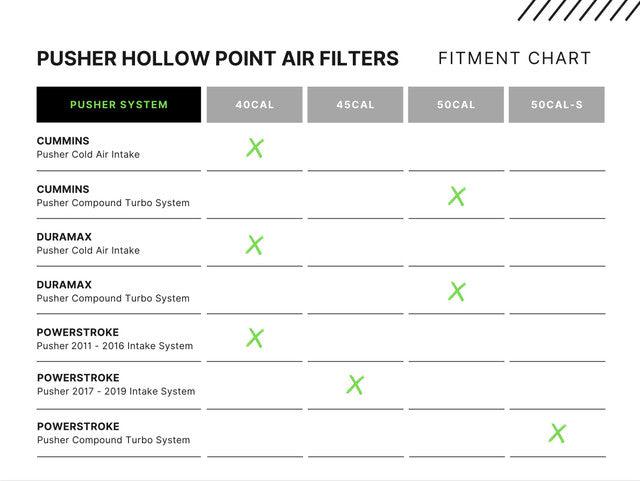 Universal Pusher Hollow Point Air Filter (P50CALXX)
Part Number:
P45CAL
Mfr Part Number:
Available at alternate warehouse - contact for price
This is a special order item, please allow for additional processing time. If you would like an ETA, please reach out prior to placing your order.
Fits

Fits: Compatible Cummins, Duramax, & Powerstroke Applications (Refer below)
Cummins Applications -
Pusher Cold Air Intakes

 

- 40CAL
Pusher High and Low Mount Compound Turbo Systems

 

- 50CAL
Duramax Applications - 
Pusher Cold Air Intakes -

 

40CAL
Pusher Compound Turbo Systems (LB7, LLY, LBZ, LMM) -

 

50 CAL 
Powerstroke Applications - 
Pusher 2011 - 2016 Intake System (6.7L) -

 

40CAL
Pusher 2017 - 2019 Intake System (6.7L) -

 

45CAL
Pusher 2017 - 2019 Compound Turbo System -

 

50CAL-S
Description
Most Pusher Products will be a special order and can take up to 2-3 weeks for delivery. If you need it sooner, please contact us for our stock levels!
The geometry on this filter was tested for several years in a broad range of conditions and vehicle configurations to fine-tune its durability. Thanks to its inverted cone end cap this filter offers ample filter media, catching more dirt and debris than other similarly sized filters.
Clean this filter every 30,000 miles in normal driving conditions. Dusty operating conditions will require more frequent cleanings and possibly oil applied to the filter media.
Part Number: P50CALXX
Features
Tested for several years to ensure durability
Can flow more than any other 5" inlet charger can
Plenty of spare room for dirt build-up
Inverted cone end cap offers ample filter media
A great option for custom applications that utilize a 4" tube where a large filter is needed. 
Dimensions
P40CAL: 11" OAL X 8" OD base X 6" OD end cap X 4" ID flange.
P45CAL: 9" OAL X 8" OD base X 6" OD end cap X 4.5" ID flange.
P50CAL: 11" OAL X 8" OD base X 6" OD end cap X 5" ID flange
Includes
Pusher Hollow Point Air Filter

Full stainless worm drive clamp
FAQ
How often should I be cleaning my filter?
Pusher recommends you check it out every 5-6,000 miles; they find it easiest to just check on it at the same time they perform oil changes. Take it out, tap off any loose debris, dirt, bugs – then you can use your best judgement on whether or not it's time for a full wash. Drivers in dustier, off-road conditions will need to wash more often than city drivers. Click to read more: How to Clean Your Pusher Air Filter
Should I be oiling my filter? Is this filter pre-oiled?
Pusher filters are made with media that can be oiled, but they are not pre-oiled. Pusher doesn't recommend oiling unless you are in a dusty environment and need the extra support of the oil to catch the really fine particles. If you do oil, make sure to use a cleaning and oil kit from a reputable brand, and take care to follow application instructions carefully to prevent over-oiling.
Do I need a pre-filter, or filter sock?
Pre-filters are great at keeping large debris like bugs, grass, rocks, etc, out of your pleats, which makes maintenance even easier. Pushers pre-filter is also semi-hydrophobic, so when water hits it a good amount of that water beads and rolls off, keeping your filter drier which is best for longevity and performance. The airflow impendence of the pre-filter is negligible.
How long will these filters last, how many washes?  
It really depends on your environment, how often you clean, and whether or not you use a pre-filter; if your filter media is beginning to get frayed or wrinkled you might want to consider swapping in a new filter. With average use, this is normally after 2-3 years.