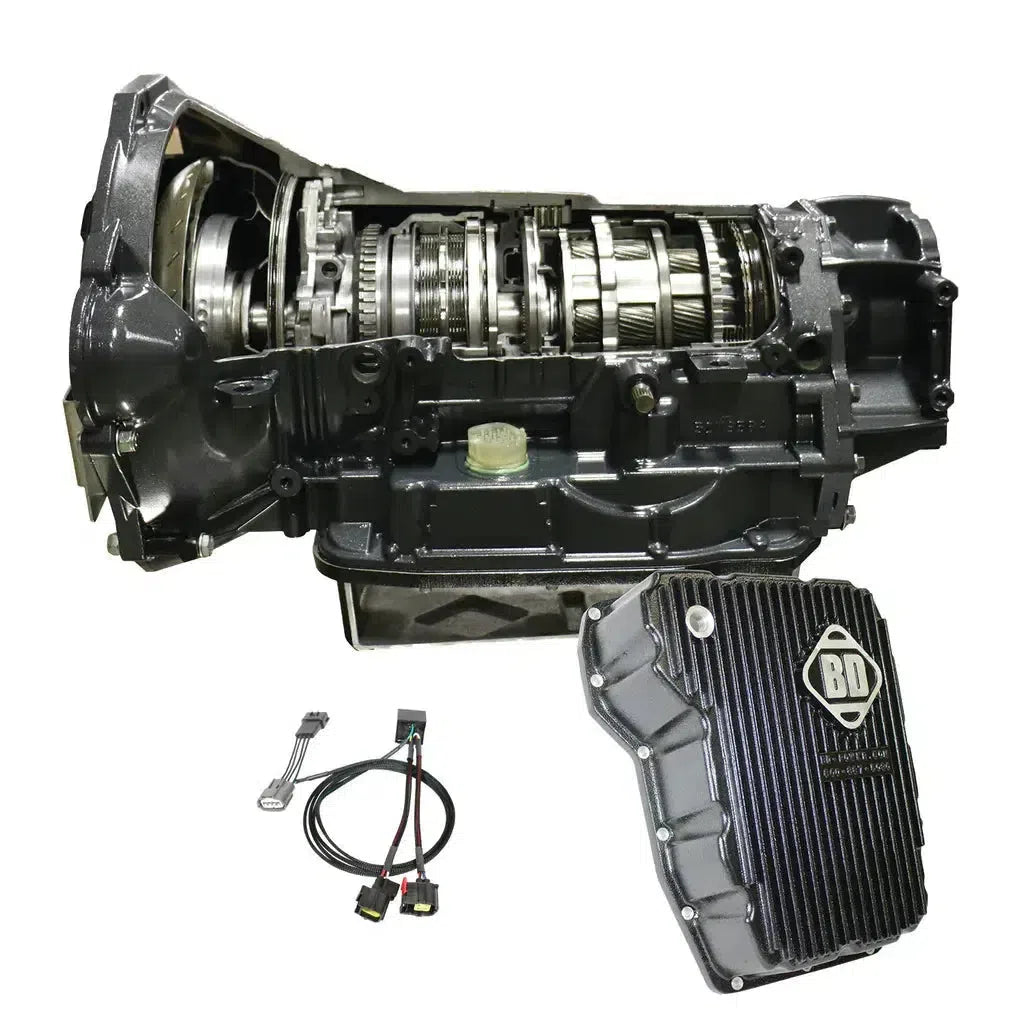 2007.5-2018 Cummins 68RFE Transmission (1064264)
Part Number:
1064264
Additional Refundable Core Deposit Required of $2,350.00 CAD. Learn more.
Available at alternate warehouse - contact for price
Description
Fits: 2007.5-2018 Cummins w/ 6.7L & 68RFE

BD's 68RFE is the industry-leading transmission. BD has addressed the common failures associated with the stock 68RFE. Burnt overdrive clutches are a thing of the past, utilizing custom billet QT100 reaction plates, longer "Big Stack" spline OD shaft, and 16 frictional surfaces. Every BD 68RFE is also built to withstand 250psi of line pressure for unrivaled torque holding capacity.
Part Number: 1064264
Features
Hard anodized valve body and new solenoid pack installed in every unit
Custom bonded gasket valve body separator plate increases line pressure while stopping internal cross leaks
HD cam & roller design low reverse one-way clutch
New 4C billet spring retainer
Steel girdle added to 2C piston to allow for more clutches and broader apply area
BD durable QT100 pressure plates allow for increased clutch counts and reduce deflection and distortion within the clutch drum
OverDrive clutches 33% increase & 2C clutches 33% increase
Custom Big Stack overdrive shaft
BD reinforced accumulator plate
TCC limit valve machined and sleeved to address high wear area with in pump
BD Deep sump oil pan adds extra fluid and cooling capacity while reducing case flex
BD ProTech68 pressure control module ramps up line pressure to 250 psi using MAP sensor to input load and adjust the pressure required
Available with Billet input shaft
Notes
BD torque converter must be installed at the time of installation of the transmission - use of a 3rd party or OE converter will invalidate the transmission warranty
Warranty
No Race abuse is covered. Remote filter required for inspection with cooler flow rate in GPM at Oil/Air transmission cooler outlet.
QUESTIONS & ANSWERS
Have a Question?
Be the first to ask a question about this.
Ask a Question
Frequently Bought Together