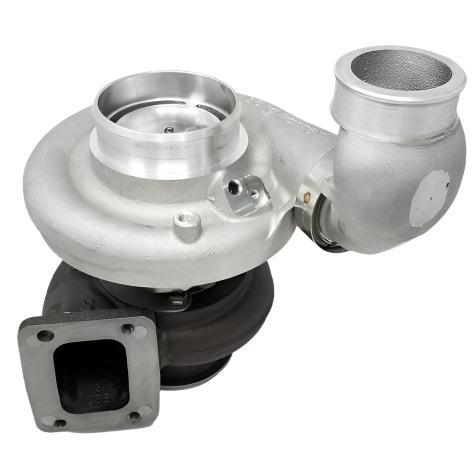 *Discontinued* 2007.5-2018 Cummins S300 SX-E Non-VGT Turbo Kit (KC-S300-SXE-NON-VGT-KIT)
Part Number:
KC-S300-SXE-NON-VGT-KIT-63/68
Mfr Part Number:
Available at alternate warehouse - contact for price
This is a special order item, please allow for additional processing time. If you would like an ETA, please reach out prior to placing your order.
Description
This Product has been Discontinued
Fits: 2007.5-2018 Dodge Ram w/ 6.7L Cummins 
  
If you're tired of having troubles with that factory VGT turbocharger but don't want to go through the hassle of converting everything under the hood with labour-intensive install kits, this is the answer. The KC Turbos S300 SXE Non-VGT Turbo Kit will bolt directly to your factory manifold and reuse all your factory piping. This kit will eliminate the need to remove the manifold or EGR system to install, which in turn decreases the labour time that is involved to convert over to a non-vgt set-up. The turbo will bolt right up to your factory exhaust elbow and downpipe and reuses the factory style air-box, intercooler charge pipe, and even the factory oil feed line! KC Turbos includes the required water line delete plugs as well as a longer oil drain tube. If you are looking for the easiest to install, and the most inexpensive option on the market to get rid of that troublesome VGT, then this is the kit you need! 
Part Number: KC-S300-SXE-NON-VGT-KIT
Features
No manifold required

Reuses factory manifold, piping, air-box, intercooler charge pipe, & oil feed line
True Direct Fit Turbocharger

Installs no different than swapping out a stock turbo

Bolts directly to factory Exhaust Elbow & Downpipe

All required hardware included
Choosing Your Compressor Wheel Size:

63/68: Best for Stock injectors and towing. This will offer the best low-end spool. Closest to stock VGT drivability.
63/74: Good for Heavy Towing and Daily Driving (50-100hp Tune)
64.5/74: Best for Towing and Daily Driver with bigger tunes (80-150hp Tunes)
66/74: Best for Light Towing and Hot Street Performance (150+ Tunes and mild injectors)
69/74: Best for Hot Street Performance (150+ Tunes and mild injectors)

Notes

Custom tuning will be required

If you are running a larger than stock tire, with factory gearing (3.42-3.73), KC Turbos suggests sticking with the smaller turbo sizes in order to maintain the best overall drivability. The larger compressor and turbine sizes may be harder to drive in 5th-6th gear at lower cruising RPM's.
QUESTIONS & ANSWERS
Have a Question?
Be the first to ask a question about this.
Ask a Question