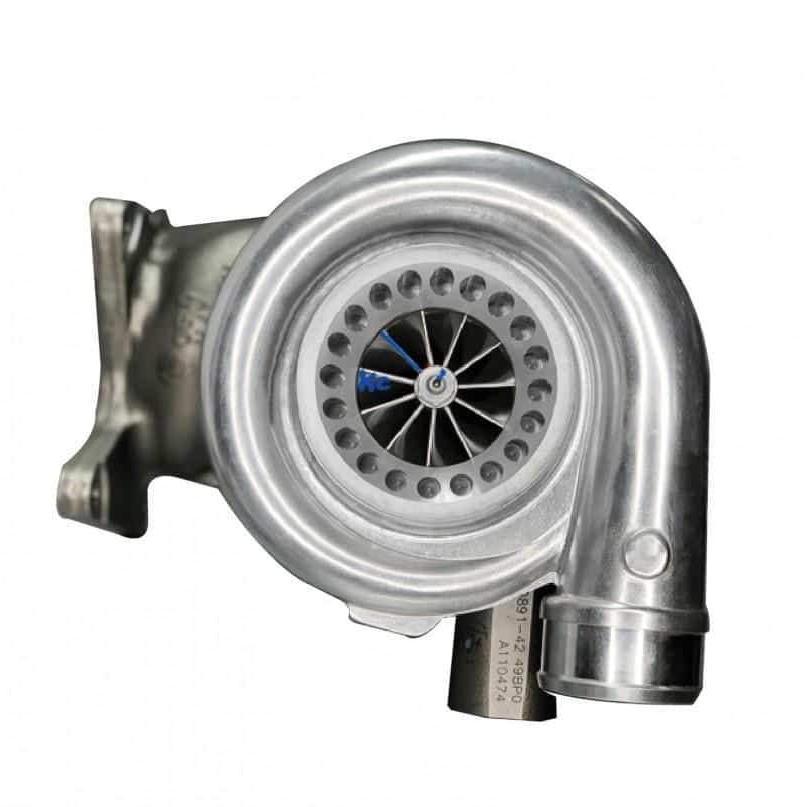 *Discontinued* 2004.5-2010 Duramax KC Stage 3 68mm/74mm Turbocharger (KC-68-Stage-3-6.6-Turbo)
Part Number:
KC-68-Stage-3-6.6-Turbo
Mfr Part Number:
Available at alternate warehouse - contact for price
This is a special order item, please allow for additional processing time. If you would like an ETA, please reach out prior to placing your order.
Description
This Product has been Discontinued
Fits: 2004.5-2010 GM LLY, LBZ, & LMM w/ 6.6L Duramax  
KC Turbos has had a lot of requests to bring the magic from their KC 6.0L Powerstroke turbos over to the Duramax world. They have answered those requests with the 100% Drop-In KC Stage 3 68mm/74mm Turbocharger that has been fitted with a 10-blade turbine wheel to help decrease EGT's while increasing your top-end performance. The upgraded .72ar race compressor cover with a drilled hole surge ring will maximize airflow. It also utilizes features such as new high-flow vanes, an upgraded 360 thrust bearing, and a new VGT solenoid. This turbo will clean up your fuel and give you the power and performance that you have been longing for out of your Duramax!
The Stage 3 68mm/74mm turbo is a no modification required, drop-in turbo for your 6.6L Duramax. If you are wanting to be able to daily drive your truck during the week and race in competitions on the weekend, then this turbo is meant for you. This turbocharger is better suited for making power rather than towing heavy loads. 
 KC Part Number: KC-68-Stage-3-6.6-Turbo
Features
68x94mm single plane billet wheel with extended tips to 100mm
Upgraded .72ar race compressor cover with drilled hole surge ring for maximum airflow
74x70 gt42 10 blade turbine wheel (biggest and strongest turbine wheel on the market)

New high flowing vanes

Upgraded unison ring

Upgraded 360 thrust bearing

100% drop in (no modifications required)
New VGT solenoid
Does Not Require A Core
Notes
Custom Tuning Is Recommended After Installation
Two weeks lead time
All KC Turbos are assembled and built in the United States. They will be special order until we have good stock and may take up to two weeks for delivery. Let us know if you're in a rush so we can get them rushed up!
QUESTIONS & ANSWERS
Have a Question?
Be the first to ask a question about this.
Ask a Question
Frequently Bought Together